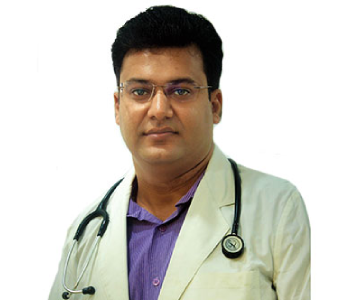 Dr. Mohit Poddar
Allergy & Asthma Specialist & Clinical Immunologist
M.D., F.A.C.I., F.C.C.P.
Ex. Assistant Professor
SMS Medical College, Jaipur
Qualification
Dr. Mohit Poddar is specialist of Allergy, Asthma and Clinical Immunology. He has 14 years" extensive experience in Health & Medical Science and doing allergy tests and asthma management since last nine years. He is awarded Fellowship in Allergy, Asthma and Clinical Immunology at Saveetha Medical College in 2015 - 2016.

Dr. Mohit also did Post Graduate Program in Pediatric Nutrition at Boston University School of Medicine (2014 – 2015) and Good Clinical Practice Training at World Health Organization in 2008 and Asthma Management Training at Chest research Foundation in 2010.
Designation
He has been the Assistant Professor at SMS Medical College, Research Associate Influenza Vaccine at Serum Institute of India and Research Associate Oral Polio Vaccine at World Health.
Administration
Dr. Mohit was trained for Fundamental Critical Care Service Provider course by American Academy of Critical Care, Pediatric Advanced Life Support Course, Neonatal Advanced Life Support Course, Good Clinical Practices by WHO, Basic Pediatric Intensive Care Course (Hyderabad) and Management of Asthma in Children (CASPER) at Chest Research Foundation (Pune).
Then he worked extensively in field of Asthma and Allergy in Pune and Jaipur. He managed Pediatric Pulmonology and Allergy Division at SMS Medical College & Hospital.
Research experience
His paper was published in Indian Journal Of Allergy, Asthma and Immunology based on-"Estimation of serum immunoglobulin E levels as suggestive indicator of atopy in children having Allergic Rhinitis".
He has presented various papers & posters and has been awarded for them too. He has been Past Member of advisory board for nasal influenza vaccine.
Dr. Mohit has been also become a part of Five Arm Blind Oral Polio Vaccine Trial conducted by WHO published in Lancet, secondly a research comparing two different formulations of Hib Vaccine Trial by Serum Institute of India and conducted phase II & III Swine Flu Vaccine (NasoVac) Trial by Serum Institute Of India.
He has Chaired many sessions in many national conferences and delivered various talk on Allergy, Asthma and Vaccines.
Social Milestones
Dr. Mohit is The Secretary of Indian Academy of Pediatrics Respiratory Chapter Rajasthan State, Treasurer in Agarwal Doctors Forum Rajasthan, Joint Secretary for RESPICON 2020 (National Conference of IAPRC). He also has been the Ex Treasurer in Indian Academy of Pediatrics Respiratory Chapter Rajasthan State and Ex Executive Board Member at Indian Academy of Pediatrics Jaipur Branch.